Paoli Vetcare Client Reviews
Our Patients & Clients Mean the World to Us!
Kind words encourage us in our daily quest to create a spectacular experience—every single visit.
We have been going to Dr. Rowan and Paoli Vet Care for the past 20 years and can only say one thing… you will never find a better vet and staff that will care for you and your pet!! Absolutely they best in the area!!!

Paoli Vetcare has state-of-the-art COVID safety protocols:
We are new clients and the Paoli Vet team did a great job of taking care of our pup. Their protocols made us feel very safe. The staff was very friendly and professional!

Paoli Vetcare has state-of-the-art COVID safety protocols:
Great experience bringing my puppy here for his first vet visit! The staff was super friendly and everything felt very safe and organized under COVID-19 safety guidelines.

Paoli Vetcare has state-of-the-art COVID safety protocols:
Even before COVID, Dr Rowan, Dr Dawn and all of the staff at Paoli Vetcare were consummate, caring professionals. Since COVID, I have been so impressed with all of the protocols they have in place to protect our animals, their staff, and of course, us.

 

They manage to maintain every bit of kindness and care, no matter the circumstances, and I feel so at ease knowing my dogs are getting the best possible care. The community that makes up Paoli Vetcare deserve our support, as they support us and our pets. I recommend them without reservation!

Paoli Vetcare has amazing support by clients on Nextdoor and had been especially recognized for our Fear Free® approach to the care of cats. We've been voted the Nextdoor Neighborhood Favorite Veterinarian every year since voting began!!
Paoli Vetcare is the best. I have been taking my pets there for 15 years. Dr Rowan is an excellent diagnostician and has treated one of my cats with multiple ailments with great success. Janine is wonderful with cats and the practice took great care of my sick kitty when he was boarded.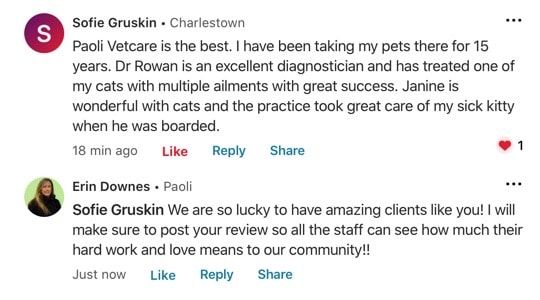 Paoli Vetcare provides great value!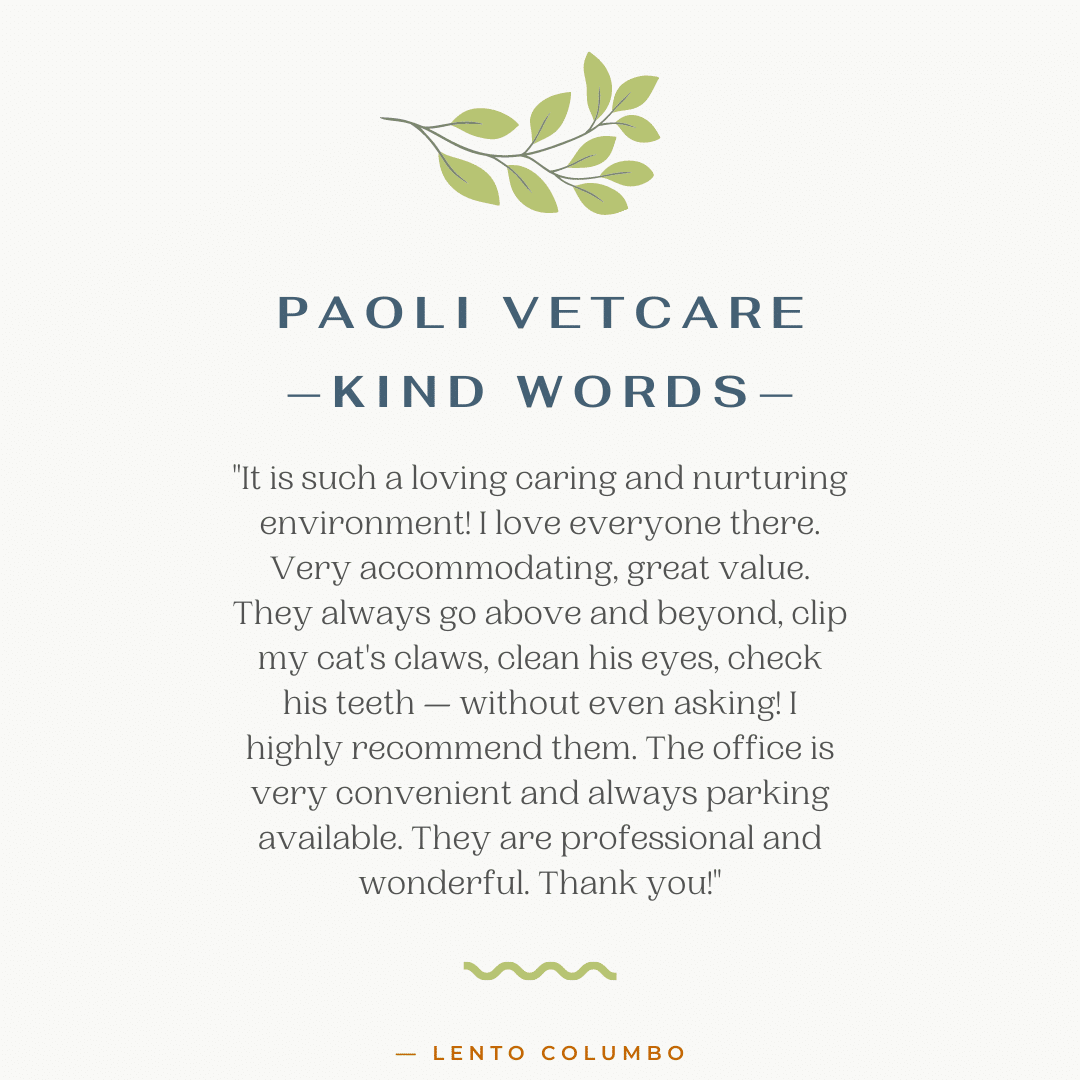 Paoli Vetcare has state-of-the-art COVID safety protocols:
Taking my 2 cats for annual exams was done with great respect for Covid protocol–and of course also for my kitties! Contactless and easy phone discourse to chat about cat health; was very easy.

Paoli Vetcare has state-of-the-art COVID safety protocols:
I love Dr. Dawn. They've been taking fantastic care of my new puppy Ziggy who is now a year old. The Receptionists are great and they do a great job with the whole Covid thing — I love Paoli VetCare.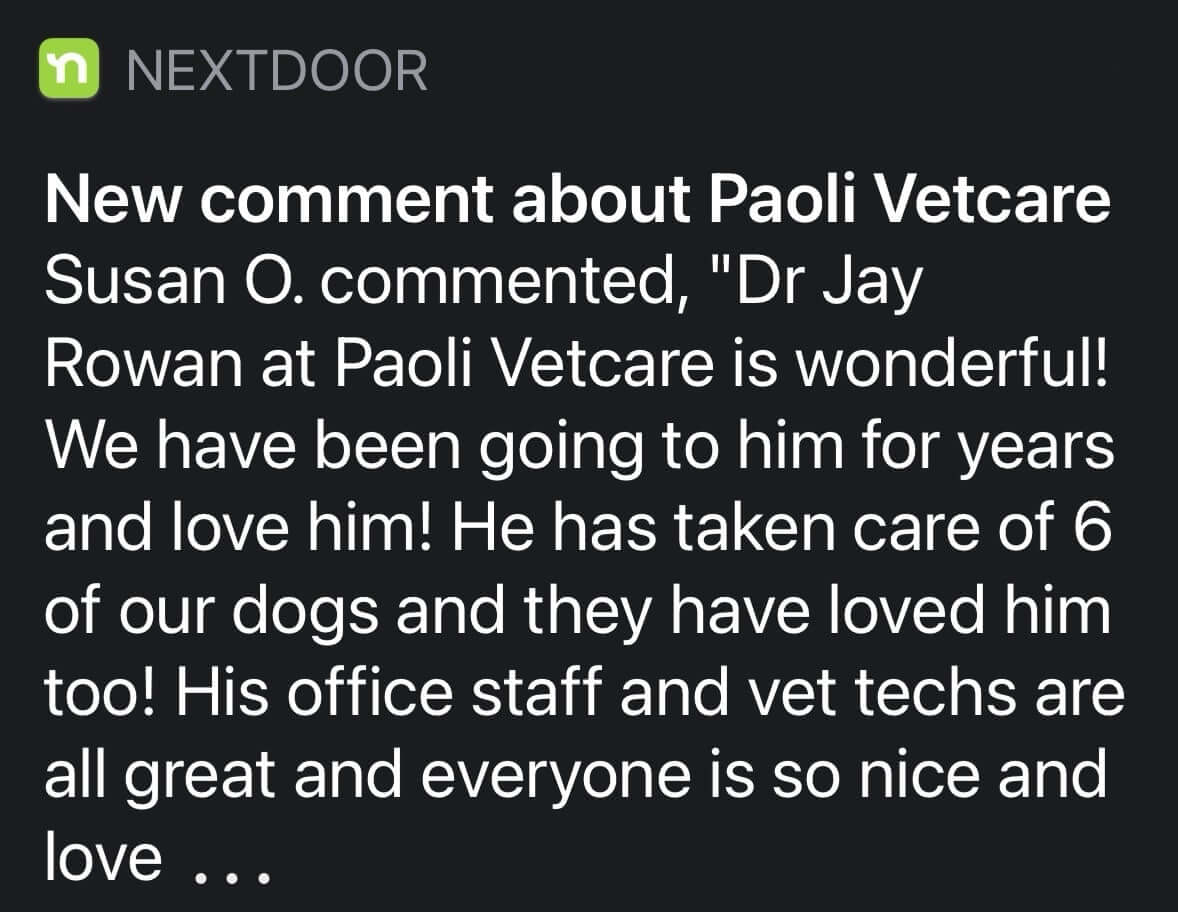 Dr. Jay Rowan at Paoli Vetcare is wonderful! We have been going to him for years and love him! He has taken care of 6 of our dogs and they have loved him too! His office staff and vet techs are all great and everyone is so nice and love our dogs! (We have 3 French bulldogs.) Definitely a wonderful vet office!
Years of kind, caring and quality pet care!

"They care for my dogs as if they were their own. I've been a client for 15+ years and would never consider going anywhere else. "


Are you ready to come see us?
Request an appointment online in minutes! New client exams are always free

Our Hours
Monday: 8 am – 6 pm
Tuesday: 8 am – 6 pm
Wednesday: 8 am – 6 pm
Thursday: 8 am – 6 pm
Friday: 8 am – 6 pm
Saturday: 8 am – 12 pm
Sunday: Closed