We're proud of Paoli Vetcare!
Our hospital has continuously earned The Standard of Veterinary Excellence, American Animal Hospital Association (AAHA) Accreditation, since 1960. That means we hold ourselves to the highest standards. Pets are our passion. And keeping them healthy is our #1 priority. We are proud to be an AAHA-accredited hospital for almost 60 years. Here, we strive to deliver excellent care for pets in a cozy clinic atmosphere. Because your pets deserve nothing less.
Choose the Best Vet for Your Best Friend
Did you know that accreditation for animal hospitals is voluntary? Surprisingly, nearly 60% of pet owners believe that their pet's vet hospital is accredited when it is not. State regulations can vary widely – in fact, Pennsylvania does not routinely inspect any veterinary hospitals—they only investigate when a complaint is filed by a pet owner.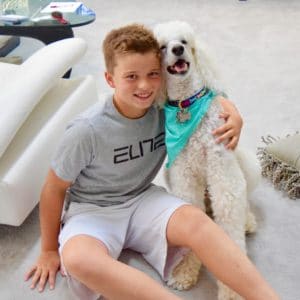 Since it is voluntary, only 12-15% of animal hospitals have gone through the AAHA accreditation process. Through a lengthy and time-consuming process, AAHA evaluates a hospital on almost 900 standards of veterinary excellence. To maintain accreditation, we undergo a rigorous review by veterinary experts every three years.
Be a champion for your pet — choose an AAHA-accredited hospital!
See The Difference At Paoli Vetcare
We are more than your neighborhood veterinary clinic—we are a dedicated group of educated professionals that truly loves every pet that walks through our doors. At Paoli Vetcare, we believe that the continuing health of a pet is what matters most, and the only way that we can ensure every pet receives the quality care they need is to elevate and educate ourselves, our clients, and our community.
Our primary focus is to provide veterinary care for every pet in Pennsylvania that goes above and beyond. Consider us your local pet health experts, your family of doctors, technicians, groomers, care coordinators and kennel assistants that treat every single animal with the same level of compassion and love. We are committed to the total wellness of your pet, and that includes preventative care, training, dental services, wellness exams, surgery, disease screening, microchipping, and more. As a team of Fear Free certified doctors, we put special care into reducing your pet's anxieties and giving them the best checkup they've ever received.
We Work With You to Improve The Life Of Your Pet
Pets deserve to live happy, healthy, fulfilled lives, and we truly believe that. Our clients have been celebrating us for decades, and we'd love for you to drop in and check out our facility. Give us a call and make an appointment, and you'll be amazed at the difference in the happiness and healthiness of your furry friend.
We believe in giving you the resources you need to help give your pets the best life possible. Ask our doctors and technicians about educational materials that cover ongoing nutrition, disease prevention, exercise, health management, and more. We're always only a phone call away, and we love to hear from you!
Tour Paoli Vetcare
Take a virtual tour of Paoli Vetcare. Discover our state of the art veterinary clinic and animal hospital that has been serving Main Line and the surround areas since 1960
Have questions? Contact us today!