Paoli Vetcare Client Reviews
Our Patients & Clients Mean the World to Us!
Kind words encourage us in our daily quest to create a spectacular experience—every single visit.
Paoli Vetcare has state-of-the-art COVID safety protocols:
Taking my 2 cats for annual exams was done with great respect for Covid protocol–and of course also for my kitties! Contactless and easy phone discourse to chat about cat health; was very easy.

I love the clinic's retro interior design style, but when it comes to vet care, they are definitely up-to-date. — Nextdoor Review


Paoli Vetcare has state-of-the-art COVID safety protocols:
I love Dr. Dawn. They've been taking fantastic care of my new puppy Ziggy who is now a year old. The Receptionists are great and they do a great job with the whole Covid thing — I love Paoli VetCare.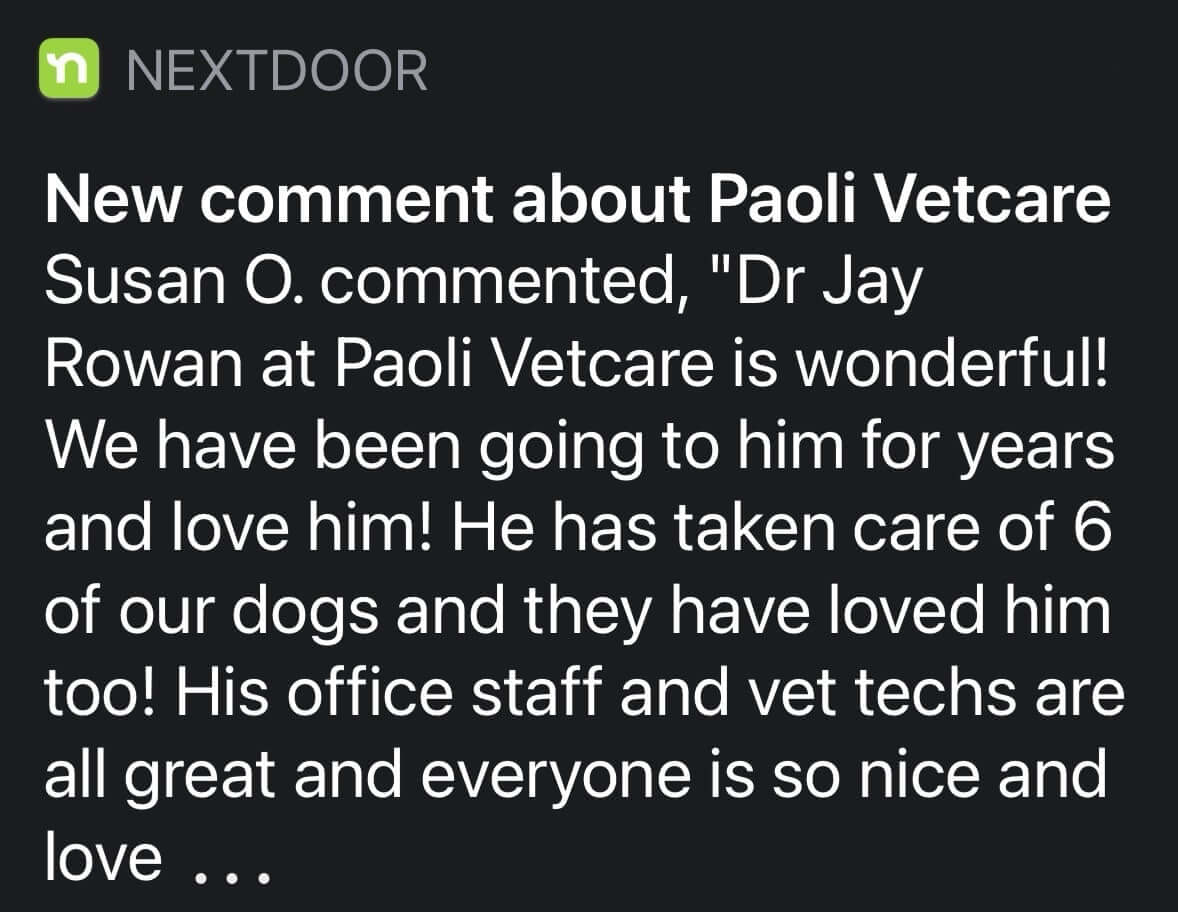 Dr. Jay Rowan at Paoli Vetcare is wonderful! We have been going to him for years and love him! He has taken care of 6 of our dogs and they have loved him too! His office staff and vet techs are all great and everyone is so nice and love our dogs! (We have 3 French bulldogs.) Definitely a wonderful vet office!
They were great with my cat Siamese which can be difficult to deal with and the Dr Rowan made a personal phone call to check in on him once he was back home,which he didn't have to do ,so a + in my book — Nextdoor Review

Years of kind, caring and quality pet care!

"They care for my dogs as if they were their own. I've been a client for 15+ years and would never consider going anywhere else. "


Are you ready to come see us?
Request an appointment online in minutes! New client exams are always free