Get Answers Quickly —
Please Mask Up!! 😷 — June 2021
Because 100% of our staff are now fully vacccinated — for the first time in many months — we are able to work without wearing N95 respirators all day 🎉
To give our team a break from constant mask wearing, we are continuing car-side service for a bit longer.
Mask wearing is currently required by everyone — regardless of vaccination status — inside publicly accessible Pennsylvania healthcare facilities. Please bear with us as we navigate the transition back to in-person vet visits.
What's Car-side Service?
🚘  We will pick your pet up from your car and bring them inside for their exam. Please inform us of possible COVID exposures to you or your pet, so we may protect our staff. If you are sick, stay home and have someone else bring your pet — even if you are vaccinated.

😷 Please CALL or TEXT from your car on arrival and we'll come out to pick up your pet or explain how you can use our "no-touch" indoor transfer kennel. Remember—MASK UP—before you enter the building — even if you are vaccinated.

🙏  Compassionate exceptions are made for euthanasia. Please call to discuss any questions or concerns before your appointment.
Thanks, in advance, for helping us protect everyone in our community. We're grateful you've chosen us to care for pet ~ Jay Rowan VMD
The Strictest COVID Protocols Make For The Safest Vet Hospital — April 2021
Paoli Vetcare has been on the cutting edge of pandemic safety since February 2020. We have the strictest COVID protocols of any business, bar none.
We recently added twice weekly COVID screening for all staff via a lateral flow antigen test that gives results in 15 minutes.
All staff is vaccinated for COVID-19. We expect "fully vaccinated" status for everyone by mid-May.
All staff is screened daily for symptoms via an online reporting system. If symptoms are present they are put on paid leave, then tested twice before returning to work per CDC quarantine guidelines.
Staff is required to wear N95 respirators at all times.
Building ventilation has been enhanced with continuous CO2 monitoring throughout the facility. CO2 monitoring tells us that our ventilation is effective at minimizing the risk of airborne COVID transmission.
HEPA air purification units in every area people congregate.
Upgraded facility HVAC air filtration.
Surface disinfection is carried out at regular intervals, as is hand hygiene with medical grade, touch-less soap and sanitizer dispensers throughout the building.
We've managed to avoid cases of COVID so far 🤞 and hope to be able to welcome vaccinated clients into our hospital soon.
Does My Cat or Dog Need a COVID-19 Vaccine? — February 2021
Dogs and cats can be infected with coronavirus. It is important to isolate from your pets if you test positive for COVID-19. If this is your concern, you can learn more below.
Vaccination of pets is not recommended at this time. Pets are not likely to get severe illness or spread the virus. In fact, humans are the primary source of infection for dogs and cats. Veterinary vaccine manufacturers are currently working on research and development of vaccines, but none are currently available.
It is not unthinkable that vaccination of some domesticated animal species might be necessary in the future to curb the spread of the infection — some animals, such as mink — are especially susceptible to infection.
Can My Dog or Cat Get COVID-19? — January 2021
Yes — pets do catch COVID from sick HUMAN household members. Dogs are less susceptible than cats.
Research currently shows 15-20% of dogs and 25-59% of cats in COVID-positive households contract the virus.
Antibodies to COVID in animals are a reliable indicator of past infection and they hang a round longer than the virus itself. Safety of the researchers is another reason antibody studies are preferable to PCR-based testing — which looks for live virus. That way we wouldn't have to be in the household during the time of human illness — we can test pets later to see if they contracted the infection from their owners. Research is ongoing.
DOGS
Not a lot has been reported yet on antibody testing (also called serology) in dogs.
A study in Italy found antibodies to SARS-CoV-2 in 3.4% of dogs
; 6/47 (14%) dogs from known-positive households, 1/7 (14%) dogs from households of suspected cases, and 2/133 (1.5%) dogs from other households. Whether the 1.5% prevalence in other dogs is from dogs that were infected by owners that were never diagnosed, or it represents the false positive rate of the test isn't clear.
CATS
So, my assumption is that cats living with people with COVID-19 are quite commonly infected. Whether it's 5%, 15% or 50% we don't know yet, but I think human-to-cat transmission in households is likely pretty common."
A North Carolina dog—the first in that state to test positive for coronavirus (SARS-CoV-2)—died due to acute respiratory distress (ARD). On August 3rd, he was admitted to the North Carolina State Veterinary Hospital (state-of-the-art teaching hospital at North Carolina State College of Veterinary Medicine) and he died within hours. The dog's owners notified the staff veterinarian that a family member had previously tested positive… Read the whole story: Heartbreaking: Coronavirus Positive North Carolina Dog Dies — August 2020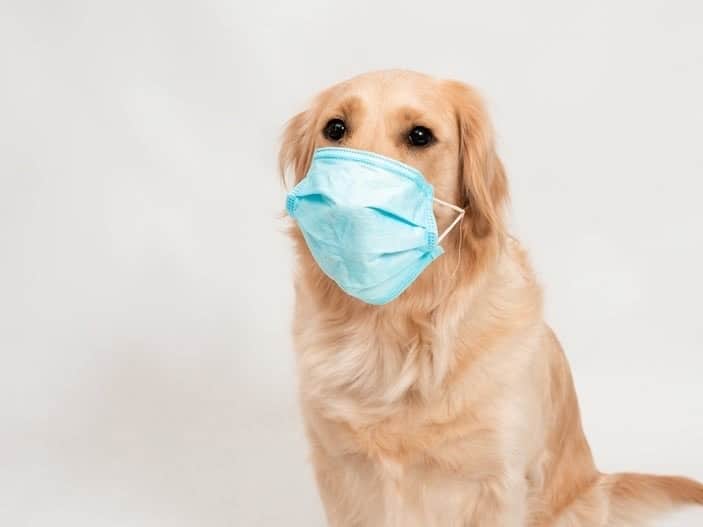 First Dog to Test Positive for COVID in US Dies — July 2020
Buddy, a Staten Island, NY German Shepard Dog who became the first dog in the United States to be confirmed positive for SARS-CoV-2, died on July 11, 2020. Buddy also had lymphoma, a type of cancer that explains the symptoms he suffered just before his death. It's unclear whether the cancer made him more susceptible to contracting coronavirus from his owner or if it's coincidental. To learn more about Buddy's story and what you need to know about coronavirus testing and pets, read blog post, "First Dog to Test Positive for COVID in US Dies — COVID Testing and Pets."
What Should Pet Owners Exposed to COVID Know?
Are you in self-isolation, quarantine, COVID-19 positive, potentially exposed, or have any symptoms? CDC Guidelines say you should not visit your veterinary hospital. Call us to determine whether a telemedicine consult is appropriate. If possible, a healthy friend or family member from outside your household should bring the animal to the Paoli Vetcare. It is critical that you inform us if you or a family member are possibly exposed to COVID-19 so we can take the appropriate precautions with our PPE and medical protocols. Your information is confidential. We will not refuse to help you or your pet!
Overview of Pets & COVID-19:
According to the CDC, there is no evidence that companion animals, including pets, are spreading COVID-19 to people. On the other hand, there have been cases where humans have spread the novel coronavirus, officially named SARS-CoV-2.
We are still learning about this coronavirus and it appears that in some rare situations, human to animal transmission can occur.
A small number of pets worldwide, including cats and dogs, have been reported to be infected with the virus that causes COVID-19, mostly after close contact with people with COVID-19.
Major veterinary laboratories have developed COVID tests for pets. These tests are not routinely run. In some cases, testing of pets is indicated. The decision to test a pet is made by your veterinarian in consultation with the Pennsylvania state veterinarian.
If you are sick, restrict contact with pets & other animals, just like you would with people. Have another member of your household care for your animals while you are sick. Avoid contact with your pet, including petting, snuggling, being kissed or licked, & sharing food. If you must care for your pet or be around animals while you are sick, wash your hands before & after you interact with pets & wear a face mask.
Quarantine household pets exposed to COVID-19: Treat pets as you would other human family members – do not let pets interact with people outside the household. Keep cats strictly indoors during the quarantine period. Cats with coronavirus are contagious to other cats so it's important to keep any potentially sick cat isolated.
Animals can be infected with COVID and not have symptoms. Just like people, pets may be asymptomatic carriers.
Read blog post "Can You Give Your Pet Coronavirus/Covid-19" and "Coronavirus and COVID-19 in Dogs & Cats" to learn much more about the coronavirus in dogs, cats, and other animals like ferrets.
COVID Symptoms in Pets:
Fever
Coughing
Difficulty breathing or shortness of breath
Lethargy
Sneezing
Nasal discharge
Ocular discharge
Vomiting
Diarrhea
Can Pets Carry COVID-19 on Their Fur?
There is still a minimal chance that your pet might act like a fomite. What is a fomite? In simple terms, it is a surface on which coronavirus can stay alive. The concern is that, because people have so much contact with their pets, the pet could carry the virus in between people even if the pet is not infected.
The virus survives best on smooth, non-porous, & inanimate surfaces. However, there remains a tiny chance a dog or cat that came into contact with an infected person can carry the virus to a non-infected person on their fur or mucous membranes resulting in human disease.
Next, you'll learn more safety measures can you take to prevent giving COVID-19 to your pet or having your pet spread it.
Should You Let People Pet Your Dog?
Since we're not shaking people's hands, it makes sense not to let people put their hands on your dog either. The world is going to be a very different place for the foreseeable future. Not only will people not be hugging as much, but our pets aren't going to be getting love from the neighborhood kids or the folks you meet in the dog park.
Tips for Protecting your Pet:
There are some simple steps that you can take to minimize the chances of giving your pet the virus or having them carry it between people.
Always practice good hand hygiene. Wash your hands before & after feeding, walking, playing with, or handling a pet. Remember you could be a source of infection to animals.
Call your veterinarian & ask any questions about your pet's symptoms, especially if there is a person with COVID-19 symptoms in your home. Be on the lookout for respiratory signs, diarrhea, or lethargy.
If the pet of someone with COVID-19 has to leave the house (e.g. to go to a veterinary clinic for medical care), precautions need to be taken to reduce the risk of exposing other people or animals. Tell your veterinarian before they handle your pet. There is no reason to worry that you will be refused service.
Consult a vet to help you determine the best way to take care of your pet and yourself in your particular situation. Paoli Vetcare's Dr. Jay Rowan will be happy to speak with you by phone or video chat.
If you suspect you may have COVID-19 symptoms, it is critical to have another member of your household or a friend care for your animals while you are sick. You should isolate yourself from other people to avoid infecting them–do the same with your pets! Consider boarding your pet until you are better.
If you must care for your pet or be around animals while you're sick, wear a mask & wash your hands before & after you interact with them.
Although there has not been any conclusive evidence of pets spreading coronavirus to people, until veterinary scientists have more definitive information about the virus, limit contact if either of you or your pet is sick to protect you both.
Don't let your pet interact with another family's pets. Social distancing rules apply to your pet too. dog playdates are not okay at this time.
Don't pet dog's you meet outside & don't let people outside your household pet your dog. If you socially distance your pet(s) in the same way you should be socially distancing yourself from other people, there is basically no chance they will bring this virus into the household.
If a household member has COVID-19, keep your pet in the house with you. This includes indoor/outdoor cats.
TeleVet Telemedicine:
Paoli Vetcare is now offering remote healthcare services with TeleVet! With the TeleVet mobile app you can easily send requests for virtual appointments to us whenever your pet is sick or injured.
To get started, download the TeleVet app on the App Store or Google Play, choose Paoli Vetcare as your provider, create a personal profile for your pets—pictures encouraged!
When you need us, create a consultation request detailing your pet's symptoms. Then upload pictures, videos, and schedule your appointment through live chat with a Paoli Vetcare receptionist.
You will live chat or video call with Dr. Jay Rowan or Dr. Dawn Urioste and we will get your pet feeling better again. We look forward to talking with you soon.
Promo code:

TeleVet20

for 20% off telemedicine consultation
Dog Daycare & Boarding:
Daycare has resumed and we are taking new pets.
Boarding is available. We do accept pets from COVID-19 positive families. Please inform us so we can take the appropriate precautions. Your information is confidential. We will not refuse to help you!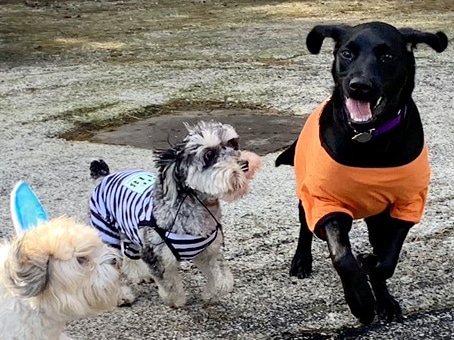 Changes at Paoli Vetcare to Protect Human Health:
24 new Purell® touch-free hand washing & sanitizing stations have been added throughout the hospital.
Trained in proper use of personal protective equipment (PPE) during COVID-19 pandemic
Implemented thorough cleaning & disinfecting protocols using the newest technology in disinfection—Oxivir® Accelerated Hydrogen Peroxide (AHP) by Diversey Care, the leading manufacturer for human healthcare environments.
Choosing the Best Commercial Surface Disinfectant for COVID at Paoli Vetcare – Accelerated Hydrogen Peroxide (AHP):
Next generation disinfectant Oxivir AHP® has the fastest kill time of any disinfectant on the market.
It's effective against coronavirus in as little as 10 seconds, while most veterinary products require 10 minutes of contact time.
Not only is Oxivir fast & effective, it is not harmful to the user or animals. All the ingredients are listed on the
EPA & Health Canada Inerts lists & the FDA Generally Regarded as Safe List.
Oxivir AHP® products blend commonly used, safe ingredients combined with low levels of hydrogen peroxide, which breaks down to just water & oxygen with use.
Oxivir AHP® products are exceptionally potent germicides & cleaners.
The benefits & efficacy of AHP® have been validated by third party clinical studies conducted by scientific organizations & third party researchers that are recognized by government regulatory agencies in Canada, the U.S & Europe.
Learn more about how Oxivir is being used across the globe here:
Oxivir Products Used at Paoli Vetcare:
Oxivir® 1 Wipes

– Next generation ready-to-use disinfectant cleaner wipes for frequently touched surfaces that are hard to clean like keyboard, computer monitor, & mouse. Contact time of ONE minute or less, with 75 claims. It's virucidal, bactericidal, tuberculocidal, & fungicidal, yet meets the lowest EPA toxicity category. Best in class!

Oxivir® 1 RTU

– A ready-to-use spray with all the properties of Oxivir 1 wipes & can be used to disinfect soft surfaces too.

Oxivir® Five 16

– We use as a floor cleaner. It disinfects hard surfaces in five minutes. Powered by AHP® technology, Oxivir® Five 16 is effective against organisms such as bacteria, viruses & fungi & falls into the lowest hazard category, requiring no safety warnings or personal protective equipment. It is also environmentally safe, as its unique chemistry allows it to break down to oxygen & water after use.
Consider Joining the Paoli Vetcare Family
We invite you to meet Dr. Jay Rowan or Dr. Dawn Urioste—the best reviewed veterinarians on the Main Line—for a free physical exam or free second opinion. You can book an appointment online now. If you'd like to support our animal hospital, please shop for your pet food and medications through the Paoli Vetcare Online Pharmacy.