Paoli Vetcare Client Reviews
Our Patients & Clients Mean the World to Us!
Kind words encourage us in our daily quest to create a spectacular experience—every single visit.
You all care so much about my dog. I mention you a lot on Facebook!
Has been a very easy process getting my dogs meds on their online pharmacy and have them shipped to my home in only a couple days! Everyone has been very kind and responsive, called to check up on my dog after about a week of him being on his new meds. I highly recommend!

Dr. Rowan, Dr. Dawn, and the entire staff are wonderful, caring, professionals! They have taken care of pets for many years. We trust them 100% and are so thankful for this practice. — Nextdoor Review

I had to put my beloved dog to sleep.
Dr. Dawn and the entire staff treated both Rollins and I with compassion and respect. I will always be grateful for their empathy during a very difficult time.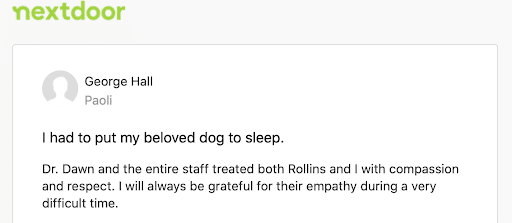 Paoli vet is the best of the best! — Nextdoor Review

Jay Rowan is a great vet. I love the way he practices medicine – very caring, compassionate, and practical. I trust him completely with my pets – we have been going to him for more than 10 years.
I took my newly adopted cat to Paoli Vetcare for her first examination. The staff was very accommodating and friendly. Dr. Rowan was very friendly and caring. I know my cat will be in good hands for all of her vet care needs in the future. — Nextdoor Review 

Dr. Rowan has taken care of my dog for years, she is 13. He is very straightforward. She had an eye infection a couple of years ago and was not responding to meds. He recommended Metropolitan and I appreciate his honesty that they could treat her better than him. — Nextdoor Review

My husband and I had a consult and initial appt with Dr. Rowan today. Dr. Rowan came into the room and immediately sat on the floor with our dog. (We loved that).
He was interactive, kind, compassionate and totally unthreatening. He was thorough with his exam and spent a lot of time with us in coming up with a better solution for our dogs' epilepsy.
He even followed up with a phone call after we got home with additional recommendations. I would highly recommend Dr. Rowan and Paoli Vetcare if in need of a vet with these special qualities. Thank you for your help!
We have been going to Dr. Rowan and Paoli Vet Care for the past 20 years and can only say one thing… you will never find a better vet and staff that will care for you and your pet!! Absolutely they best in the area!!!

Dr. Rowan and Dr. Dawn are extremely kind and compassionate. They truly love animals and are very knowledgeable. I would highly recommend Paoli Vetcare. — Nextdoor Review


I have been going to Paoli Vetcare for over 20 years and many cats. They are so caring and have helped us through many health issues. 😻 — Nextdoor Review


Paoli Vetcare has state-of-the-art COVID safety protocols:
We are new clients and the Paoli Vet team did a great job of taking care of our pup. Their protocols made us feel very safe. The staff was very friendly and professional!

Paoli Vetcare has state-of-the-art COVID safety protocols:
Great experience bringing my puppy here for his first vet visit! The staff was super friendly and everything felt very safe and organized under COVID-19 safety guidelines.

Great vets! Dr. Rowan always returns phone calls and answers questions clearly. Provides great care for my animals! — Nextdoor Review 


Paoli Vetcare has state-of-the-art COVID safety protocols:
Even before COVID, Dr Rowan, Dr Dawn and all of the staff at Paoli Vetcare were consummate, caring professionals. Since COVID, I have been so impressed with all of the protocols they have in place to protect our animals, their staff, and of course, us.

 

They manage to maintain every bit of kindness and care, no matter the circumstances, and I feel so at ease knowing my dogs are getting the best possible care. The community that makes up Paoli Vetcare deserve our support, as they support us and our pets. I recommend them without reservation!

Paoli Vetcare has amazing support by clients on Nextdoor and had been especially recognized for our Fear Free® approach to the care of cats. We've been voted the Nextdoor Neighborhood Favorite Veterinarian every year since voting began!!
Paoli Vetcare is the best. I have been taking my pets there for 15 years. Dr Rowan is an excellent diagnostician and has treated one of my cats with multiple ailments with great success. Janine is wonderful with cats and the practice took great care of my sick kitty when he was boarded.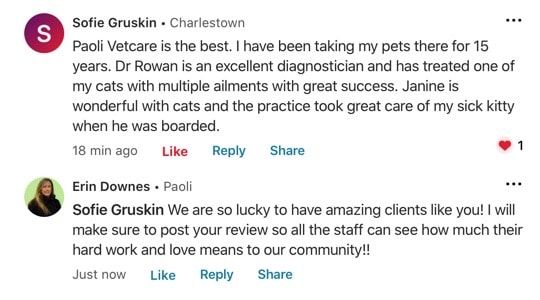 Fantastic care and caring staff that go above and beyond. — Nextdoor Review

Paoli Vetcare provides great value!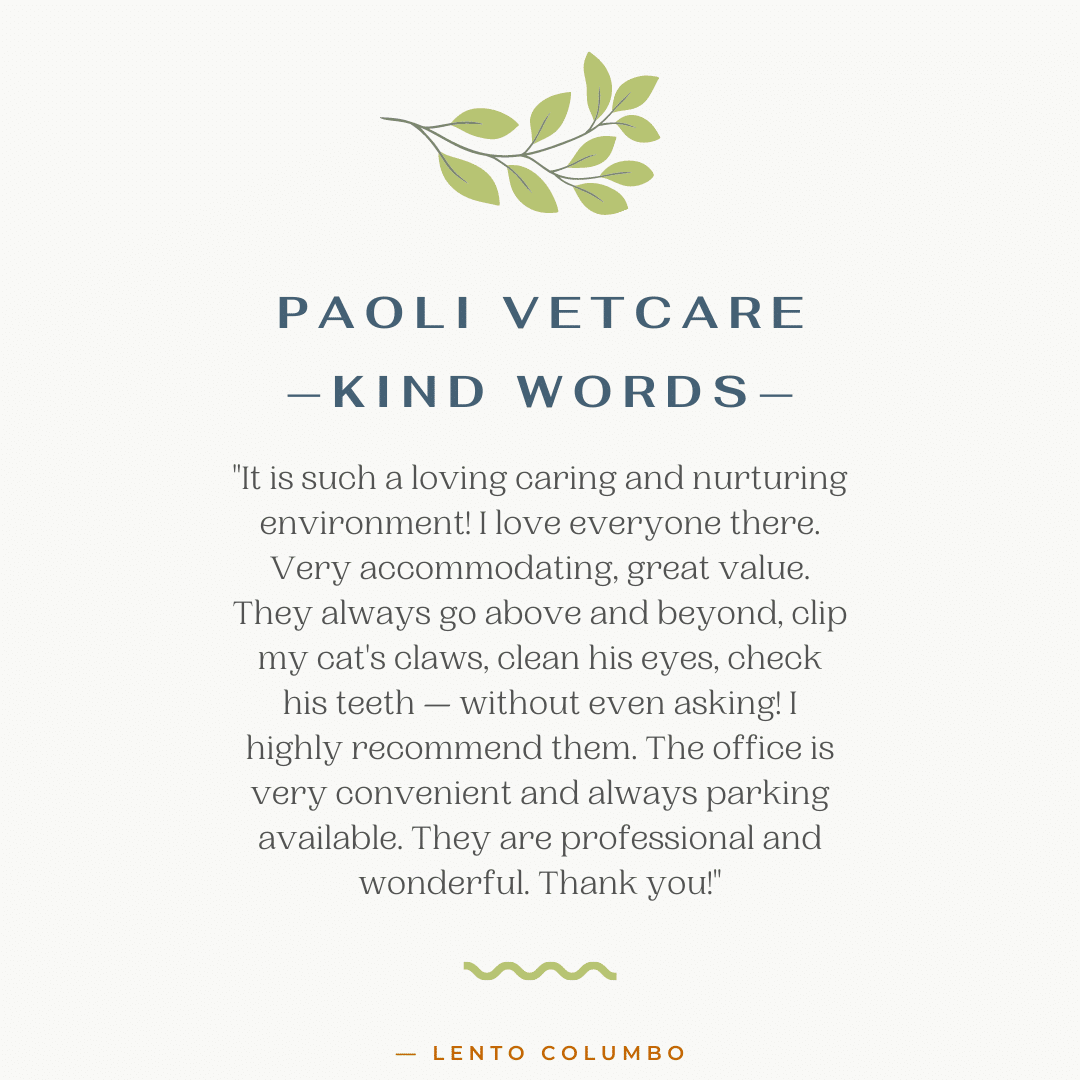 Paoli Vetcare has state-of-the-art COVID safety protocols:
Taking my 2 cats for annual exams was done with great respect for Covid protocol–and of course also for my kitties! Contactless and easy phone discourse to chat about cat health; was very easy.

I love the clinic's retro interior design style, but when it comes to vet care, they are definitely up-to-date. — Nextdoor Review


Paoli Vetcare has state-of-the-art COVID safety protocols:
I love Dr. Dawn. They've been taking fantastic care of my new puppy Ziggy who is now a year old. The Receptionists are great and they do a great job with the whole Covid thing — I love Paoli VetCare.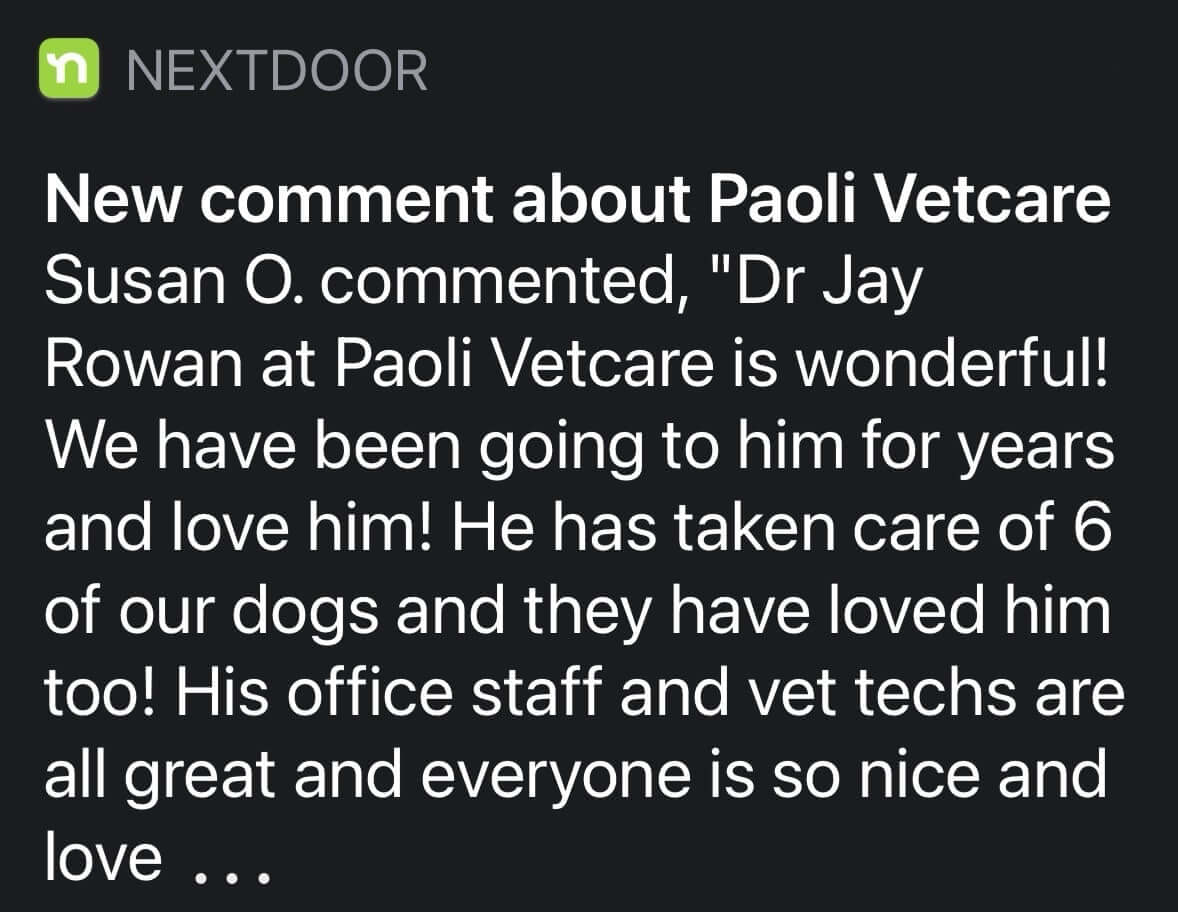 Dr. Jay Rowan at Paoli Vetcare is wonderful! We have been going to him for years and love him! He has taken care of 6 of our dogs and they have loved him too! His office staff and vet techs are all great and everyone is so nice and love our dogs! (We have 3 French bulldogs.) Definitely a wonderful vet office!
They were great with my cat Siamese which can be difficult to deal with and the Dr Rowan made a personal phone call to check in on him once he was back home,which he didn't have to do ,so a + in my book — Nextdoor Review

Years of kind, caring and quality pet care!

"They care for my dogs as if they were their own. I've been a client for 15+ years and would never consider going anywhere else. "


Are you ready to come see us?
Request an appointment online in minutes! New client exams are always free