Corporate Pharmacy Prescription Policy Change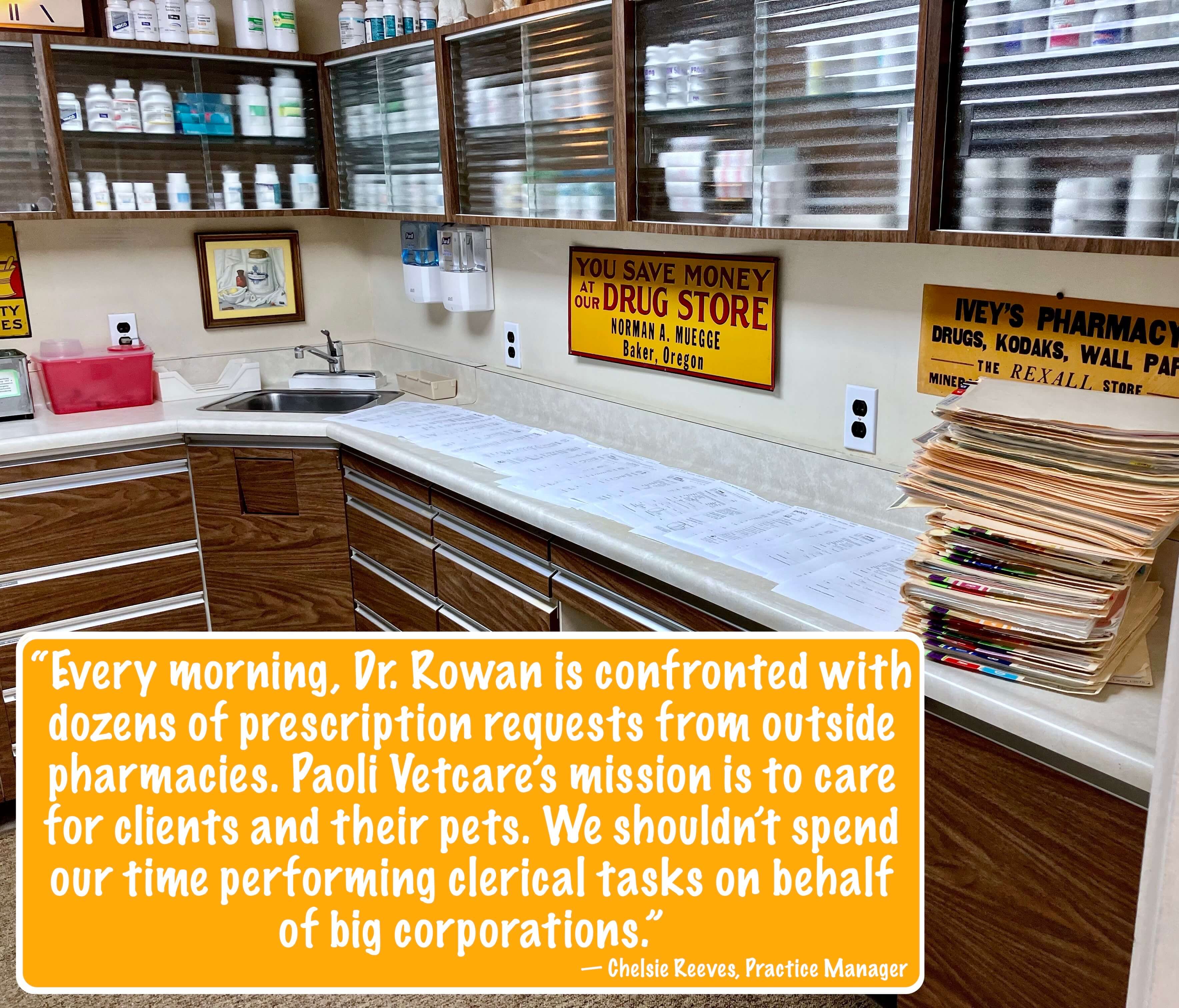 We understand the convenience of online pharmaceutical companies; however, due to the high volume of requests that we receive daily, we will be making some changes to how we process requests through outside online pharmacies — a policy change to allow us to continue to offer the highest-quality care to your pets — always our top priority.
Starting Friday, August 11th, 2023, we will no longer approve prescription requests from outside pharmacies by phone, fax, or email. We prefer that you obtain prescriptions from our online pharmacy. To create a prescription through our online pharmacy go to our website or simply click this short-link: paoli.vet/pharmacy
This doesn't mean that you can't get your pet's medication from an outside pharmacy. We will provide you with a written prescription that you can pick up at your convenience which can then be submitted to a pharmacy of your choosing. Should you wish to continue to purchase from another pharmacy, please email info@paolivet.com and allow 5 days for processing.
Why The Policy Change?
Paoli Vetcare offers an online pharmacy service in partnership with Covetrus, a leading veterinary supplier that works directly with the manufacturers of pet medications and foods so we can offer the following benefits:
All medications and products are genuine and backed by the manufacturer
Competitive pricing
Monthly site wide sales with significant savings
Discounts — e.g. ONLINE10 for 10% off order
AutoShip deals of 5% – 30% off and discounts — e.g. AUTO20 for 20% off 1st AutoShip
Manufacturers' instant rebates will automatically appear in your cart — no code needed
Palatability guarantees on all food and nutrition items
Some online pharmacies do not purchase their medications directly from the manufacturer. They are often purchased from 3rd parties with no guarantee of how they have been stored or where they come from. We have experienced additional issues with 3rd party pharmacies including:
Medications not being dispensed correctly or as directed
Prescriptions approved or denied without our consent
Prescriptions being repeatedly submitted for approval after we have approved them
Products arriving in secondary containers, not in the original packaging
Products arriving labeled for use in other countries
Fraudulent products being sold.
Most importantly, the sheer volume of requests and the time required to deal with these issues is taking our veterinary professionals away from providing the best care for our patients and clients.
We apologize for any inconvenience this may cause, but we believe that this change is necessary to allow us to focus our time and effort on providing your pet with the very best medical care. We appreciate your loyalty and allowing us to care for your pet!
If you have any questions or concerns regarding this policy change, please do not hesitate to reach out to us.
Sincerely,
Paoli Vetcare Practice Owner