Financial Assistance for Pet Surgery and Free Vet Payment Plans Near Me
Pets are valued members of the family, and proper medical care is vital to their well-being. Unfortunately, veterinary care can become quite costly when owners face a considerable unexpected expense, such as a dental disease, accident, or major surgery.
Thankfully, many trusted resources exist to help owners with financial assistance for pet healthcare. Pet parents can now use various strategies to pay their veterinary bills or receive help from organizations to ensure their four-legged family members receive the same standard of care as the 'two-leggeds.' Vet financing and vet payment plans are two common solutions, but there is also a number of ways to pay your vet bills that you may not of thought of before!
While regular preventative care improves overall wellness and reduces the risk of additional health problems, no pet is immune to emergencies. Surprise illnesses, injuries, and accidents can also happen to anyone and owners should be prepared to honor their lifelong commitment to their animals and provide them with the quality care they deserve.
Although veterinarians are compassionate individuals who dedicate themselves to improving animals' lives, providing the best care and running a successful business requires them to charge fair fees for their services.
If your pet needs a procedure that taxes your budget or that you can't afford, these resources can help you pay for unforeseen veterinary bills and improve your furry friend's health. You can even find local pet and vet financial assistance in Pennsylvania — an exhaustive list of resources is below.
How to raise funds for a pet's medical bills
Just like human medical emergencies, urgent veterinary care diagnoses and treatment frequently come with higher price tags. Ideally, pet owners should plan for these expenses by setting aside an appropriate sum in emergency veterinary funds or enroll in a pet insurance plan that provides medical coverage for furry patients.
However, sometimes unexpected costs exceed available funds and pet insurance isn't the right choice for your family. In those situations, owners can use several strategies to find financial assistance for pet surgeries or care.
Free Vet Payment Plans
Some veterinarians offer vet payment plans that allow clients to pay their bills over time instead of requiring the total amount upfront. This type of pet financial assistance may or may not include interest and vary in duration.
Paoli Vetcare offers Scratchpay — simple, friendly vet payment plans with no surprises. Finding your financing plan won't affect your credit score. Now Offering 0% Interest — the Take 5 plan!

Take 5 lets you break up your bill into 5 easy payments. Your first payment will be today, and the other 4 payments will be due every 2 weeks after that.

No interest.
No hard credit check.
No worries, period.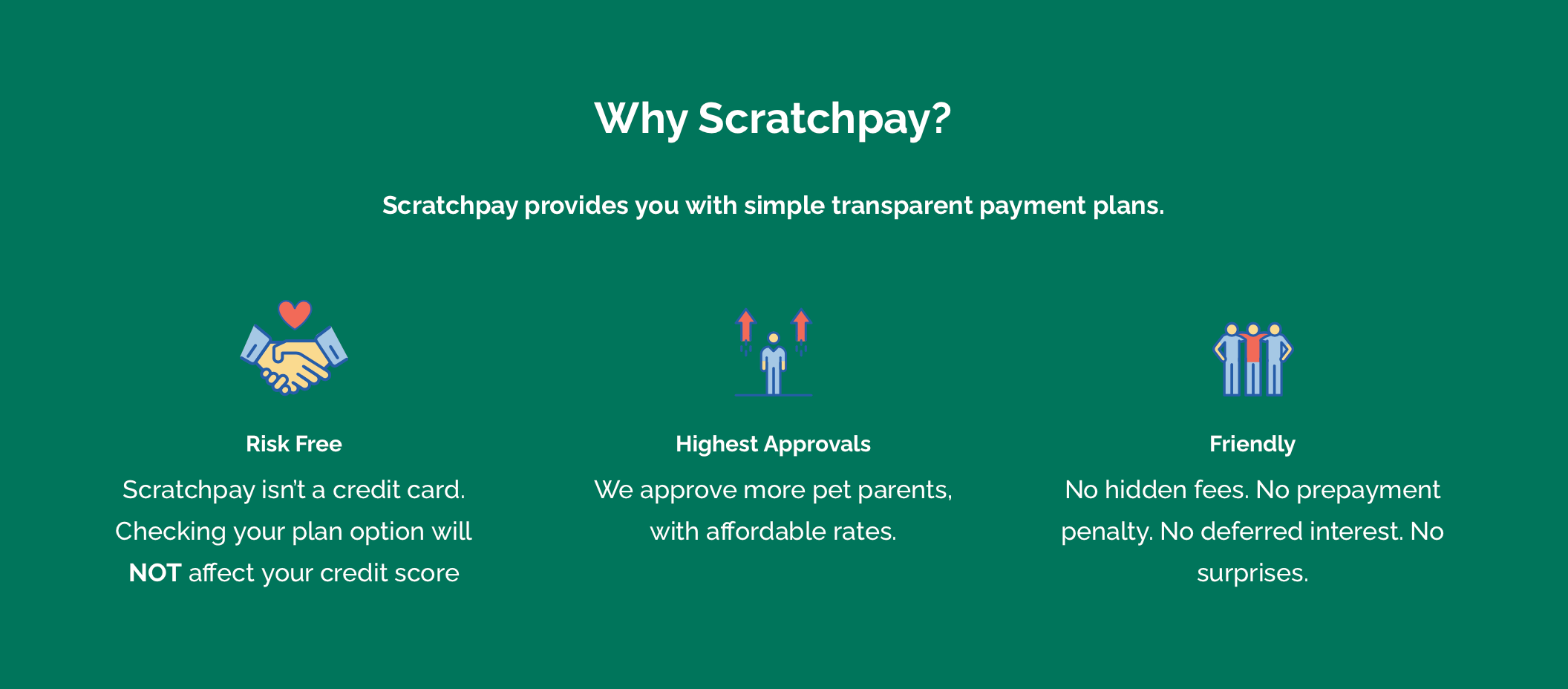 If you are experiencing financial hardship, always talk to your veterinarian. Most veterinarians are more than willing to work with you if you to find the best way to get your pet the medical care they need given your budget restrictions. Understanding your financial situation will help them customize a diagnostic and treatment plan that works for your situation.
Some vet clinics cannot provide payment plans or accept deferred payments because previous clients never paid them back, creating financial hardship for the practice.
Crowdfunding Pet Financial Assistance
Many pet owners turn to crowdfunding as a financial assistance source for pet medical care they cannot afford, like unexpected emergencies. Crowdfunding allows other pet lovers who may have more disposable cash to donate to struggling owners and help animals worldwide.
This strategy is excellent for people with a strong network of friends and family who care about their animals, creating a community support network that protects valued pets' health. Interested owners can use traditional crowdfunding websites or choose from several pet-focused resources that specialize in funding veterinary expenses.
Lines of Credit
When you find yourself unable to pay a veterinary bill that is due upfront, lines of credits can offer instant reassurance and allow you to pay expenses that exceed your current cash flow.
Some companies offer healthcare financing cards to apply towards veterinary care with higher limits and lower interest rates. However, be aware that you must pay your balance off by a specific date, or deferred interest can quickly cause the accumulation of excess debt.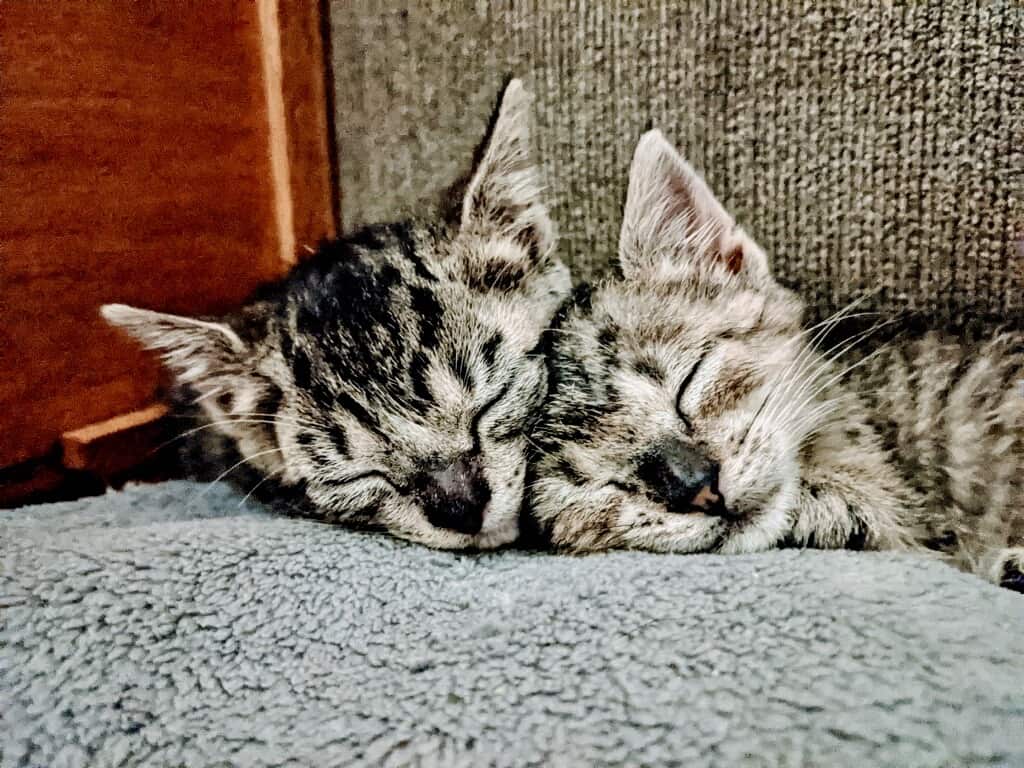 Vet Financing —

Care Credit
One of the more well-known lines of credits for health care expenses, including veterinary care, is Care Credit. This card specializes in covering medical costs not covered by insurance with lower initial rates than traditional credit cards. Paoli Vetcare participates in the Care Credit network.
If you pay off a Care Credit card's balance within the promotional period of 6 to 24 months by making minimum monthly payments, the loan is interest-free. However, if you do not pay off the balance within a certain period, you may have to take on a substantial penalty in deferred interest.
Approval depends on credit score, so you may not be eligible for the limit you need to cover the surgery with bad credit.
Purebred Specific Resources
Owners of purebred dogs can benefit from breed-specific financial resources from the AKC Rescue Network. National breed clubs provide a support network united by the love of a single dog breed that can provide assistance and reassurance in troubled times.
Organizations that specialize in different breeds may also have valuable resources suitable for the specific medical challenges that your dog may be at risk of facing. Owners of dogs susceptible to certain cancers or skeletal diseases may especially appreciate these clubs.
Regardless of the type of pet you have, the following resources present a valuable collection of helpful organizations dedicated to helping people help the family members they love, their pets.
National Financial Assistance for Pet Surgery
Consider these vet financial assistance programs to help your pet get the care it needs.
Pennsylvania Financial Assistance for Pet Surgery
For pets and their humans in the Pennsylvania area, consult these local financial assistance sources to afford the care your furry friend needs.